Title: Riot In My Heart
Author:
isisizabel
Fandom: Gossip Girl
Pairing: Nate/Jenny; Chuck/Blair
Rating: R/NC-17
Word Count: 1,796
Author's Note: This fic will have multiple NC-17 chapters. If you haven't read my fics before, I friends only lock my NC-17 chapters. To be added as a friend you must first friend me and then comment in my FRIENDS ONLY post.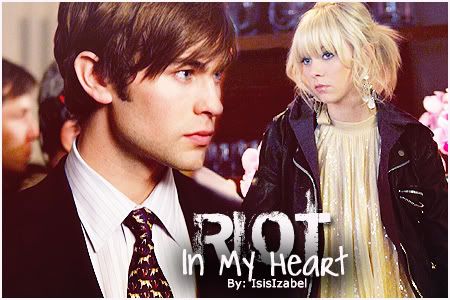 Previous Chapters
Riot In My Heart
By: IsisIzabel
Chapter 3
She had forgotten how simple, how easy things were with Nate. She had forgotten how much she missed just being with him. Reclining together on the couch with a rerun of Friends playing in the background while they worked their way through two cartons of Chinese food was her example of a perfect evening.
After the shower, she had changed into one of Nate's t-shirts while he ordered food from the Chinese place down the street. They had curled up on the couch and she had no plans of moving for the next few hours.
Jenny stabbed her chopsticks into the nearly empty container of shrimp fried rice and set it aside. "I'm full," she announced.
Nate looked over her shoulder at the container. "You sure? I think you might've left a piece of rice in there. Maybe two."
She leaned over and smacked his bicep lightly before resting her back against the arm of the couch and propping her feet up in his lap. "You're one to talk. You ate half of mine."
He leveled her with a look. "Guess I worked up an appetite, huh?"
She bit her lower lip to keep from grinning.
He set aside his own food and lightly rubbed the top of her foot. He smirked when she moaned and sank further into the couch. He pressed his thumbs harder into the instep of her foot.
"That feels incredible," she mumbled, closing her eyes.
"If you didn't wear those crazy shoes all the time," he replied teasingly, "your feet might not hurt as much."
She opened one eye. "Fashion doesn't stop at the ankles, Nate."
He chuckled. "Well I guess you would know."
She gave him a sharp nod and closed her eyes once more. "Damn straight."
He laughed again, shaking his head.
"Besides," she continued, looking at the TV, "I never noticed you complaining about my shoes. In fact, you've said on more than one occasion how much you liked my shoes."
He raised her foot up and kissed it once. "I love your feet."
Jenny glanced over at him and slowly moved forward, sliding across the cushions and twisting her legs until she was on her knees beside him.
"Just my feet?"
Nate narrowed his eyes, thinking. "I like your wrist, too," he added. For emphasis, he took one of her hands and raised her wrist to his mouth. He leaned forward, his eyes sparkling. "I love your neck."
She angled her head so he would have better access just as her phone started ringing loudly from her purse.
He wounded his arms around her back, pulling her down and crushing her chest to his. "Ignore it," he said softly, his voice muffled as he gently suckled the skin on her throat.
"Might be my dad," she replied regretfully. She got off the couch and hurried to her purse, nearly upending it to find her phone. She glanced at the caller ID and frowned.
"Who is it?" Nate asked, catching her look.
"The gallery," she replied, confused. She pressed the talk button. "Hello?"
Nate watched her, curious. He had a feeling their night was over when she sighed quietly, rubbed her temples, and said, "No problem. I'll be right over."
Jenny tossed the phone back into her purse and shrugged at him. "It was Shelley. Her son is sick and she needs to get home. I told her I'd go over to the gallery and close up the café."
Shelley was the single mother Rufus had hired a few months earlier. She lived with her mother and two-year-old son, and worked two jobs to support them all. She typically worked the night shift at the café four days a week—the nights Jenny had off.
Nate stood up. "I'll go with you."
She paused, in the middle of collecting her things. "You don't have to."
"I know I don't," he replied, turning off the TV. "But I want to spend the whole weekend with you. If I help you close up, you'll get out twice as fast."
She nodded, giving him a grateful smile. "OK. Thanks."
"No problem." He paused, watching her look around the room. "What?"
She bit her lower lip, looking a bit perplexed. "Did you see where my bra went?"
***
"Thanks so much, Jenny," Shelley gushed as she headed out the door, tugging on her coat as she went.
"It's fine," Jenny assured her. "I hope your son is OK."
"He's just had this nasty cold all week. I think it might be the flu," Shelley explained, her fingers trembling as she tugged on the zipper of her jacket. "And my mom is saying he's having trouble breathing … I might have to take him to the hospital. Not that I can pay for it…"
Jenny's heart twisted for the woman who was only a few years older than herself. "If you need extra shifts here, I'm sure my dad will help you out."
"Thanks," Shelley repeated, her eyes wide and overwhelmed. "I appreciate it."
"Take care," Jenny answered with a small wave while Shelley hurried out into the cold autumn night.
"Shelley OK?" Nate asked as he came up from the back carrying a box of coffee beans. He set the case on the counter and started stocking the shelves underneath.
"Yeah," she replied slowly, going back to the table she had been wiping down and picking up the towel. "I just feel bad for her, you know? I mean, working two jobs and having to worry about medical bills and taking care of your child… It's so overwhelming."
Nate stopped in the middle of unpacking the box. "Do you want kids?"
Jenny froze, mid-wipe. She looked up at him through her bangs. "Do I want … What brought that on?"
He shrugged. "I don't know. I mean, we never talked about it. I was just curious."
"Well, yeah. I mean, someday. Not now, obviously. Do you…?"
He nodded quickly. "Yeah." He looked up at her and winked. "Someday."
She let out a nervous laugh and went to the next table.
Nate straightened, finished unpacking the box of coffee beans. "I'm gonna get some more cups from the back."
Jenny glanced at the clock on the far wall. It read five minutes until ten o'clock. "OK. Five more minutes until I can lock the doors."
"Sounds good." Nate took the empty box with him as he headed back into the stock room.
Jenny sighed, putting some effort into scrubbing the brown ring of dried coffee from the table in front of her.
"Hey, Jenny."
"Jesus!" she exclaimed, whirling around and pressing a hand to her heaving chest. Her heart thudded painfully against her ribs from the shock.
Scott held up his hands and took a small step back, eyes wide. "Shit—I didn't mean to scare you."
She breathed out hard, nodding slowly. "Mission not accomplished," she muttered. Her eyes flickered up to his as she placed him as the guy from the week before. "Scott, right?"
"Yeah," he replied with a quick grin. "I was hoping you'd be here."
She tilted her head to one side. "Oh. OK. Um, why?"
"I wanted to thank you for your help last week," he said quickly. His blue eyes were smiling as he took a tentative step forward.
She smiled back at him and waved it off. "I told you it wasn't a big deal." She stopped, looking warily at him. "Are you lost again?"
He laughed then, shaking his head. "No. I think I finally got the subway system down."
"Well, good for you," she replied.
"I was thinking that maybe, as a thank you? I could take you out to dinner some time?" Scott went on casually, as if he were asking her about the weather.
Her smile slipped a notch. She crossed her arms under her chest, shifting nervously on her feet. "Uh … I have a boyfriend. Remember? I was talking to him on the phone when—"
"Oh, right! I meant go out as friends. I don't seem to have that many here. New city and all that."
"I'm not so sure that would be a great idea," Jenny said slowly, starting to shake her head.
"Jenny, I think we're out of—" Nate's sentence died on his lips when he came into the café and saw she wasn't alone. He set the armful of plastic wrapped foam cups on the counter and came around to stand beside her.
"Scott, this is my boyfriend, Nate," Jenny introduced quickly, her eyes moving to each boy. "Nate, this is the guy who got lost last week? The one who—"
"—showed up here on his way back to NYU?" Nate finished. He extended a hand to the other man. "Nate Archibald."
Scott eyed the hand for a beat before accepting it. "Scott Hansen."
"Nice to meet you," Nate said with a sincere smile. "You're not lost again, are you?"
Scott shook his head and looked down. "No. Not this time." His gaze landed on Jenny. "I came by to thank Jenny for her help."
She shrugged once more. "I told you it was no big deal."
Scott watched as Nate moved his hand to the small of Jenny's back, the gesture simple but possessive at the same time. She was his. Message received.
"I should go," Scott said, forcing a smile. "Thanks again, Jenny."
She smiled up at him, amused. "You're welcome."
Scott gave her a quick grin, flashing a single dimple in his left cheek. He nodded at Nate and turned to leave.
After he had gone, Nate moved around Jenny and locked the front door. He came back to find Jenny finishing up wiping down the last table.
"So that was Scott, huh?"
She glanced up at him, rolling her eyes. "Kind of weird, huh? I mean, he didn't have to come back here to thank me."
"That's all he wanted?"
She shrugged and made a face. "He asked me out to dinner."
"He what?" Nate asked, frowning.
She held up a hand, smiling slightly. "Easy. Just as friends. A thank you dinner. Doesn't matter, though. I said no." She closed the distance between them, her eyes glittering.
"I'd rather spend my time with you," she said, standing on her tip toes to kiss him quickly. She turned away just as fast. "I'm going to count out the register and we can go."
Nate folded his eyes and watched her for a moment as she moved with natural grace and ease through the café. She didn't get it—that much was obvious.
Jenny simply had no idea how completely alluring she was. Not just to him, but apparently to Scott, too.