Title: This Love, This Hate
Author:
isisizabel
Fandom: Gossip Girl
Pairing: Nate/Jenny; Chuck/Blair
Rating: PG-13/R
Word Count: 1,550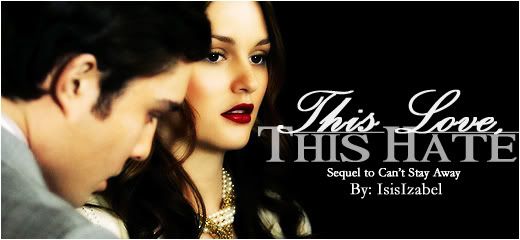 Read Previous Chapters
Chapter 11
By the time Jenny made it off the elevator, she was afraid to knock on the door for fear of what she might find.
Was he crazy? Had he really, truly lost his mind this time? Didn't he see that leaving was the last thing either of them needed? Blair and Chuck had been in a race to outrun the other, all the while never realizing it had put them on a collision course from the beginning.
She had known what he was planning as soon as she watched him head for the bank of elevators, moments before the nurse came and told them Blair was awake. Everyone had hurried to see Blair, but she had hung back. It only took a moment to decide to follow him, but by then she was afraid it was too late.
She had gone to the elevators only to be stopped by Eleanor coming off. She spent precious moments explaining what had happened and that Blair was awake. Eleanor had hurried down the hall, her three inch heels clicking on the linoleum of the floor as she went.
It wasn't until she was finally in the elevator that she realized she hadn't told anyone what she was doing. Thanks to the hospital, she knew she had no reception, so she had to wait until she was outside to send Nate a quick text:
Went to find Chuck. Call u soon.
She could only hope it got to him before he started wondering where she was. Or before Chuck left. She didn't know how successful she would be at stopping Chuck on her own, and having Nate there would definitely help.
But now she was alone, standing in the hallway in front of Chuck's room, and she was worried about knocking on the door only to find he had just gone straight to the airport.
Jenny sighed and steeled herself, raising her hand to knock. The door flew open, and Vanessa looked just as surprised as Jenny did.
"Hey, Jenny. What … what are you doing here?" Vanessa stammered, thrown by the younger girl's sudden appearance.
"Is Chuck here?" Jenny demanded, looking over Vanessa's shoulder.
"Uh, yeah," Vanessa said after a second. She waved a hand, gesturing for Jenny to come in.
As she stepped over the threshold, she noticed the duffel bag slung over Vanessa's shoulder. "Going somewhere?"
Vanessa smiled thinly. "Yeah. I found an apartment in Brooklyn with this girl I met at a film festival a few years ago."
Jenny frowned. "I thought you and Chuck…"
Vanessa's head dropped and she sighed. "No. Chuck and I aren't … We were never serious. I needed a place to stay, and he needed a distraction. That was all."
Jenny blinked, stunned. "I guess we all just thought—"
"Well, you thought wrong," Vanessa interrupted coolly, readjusting the strap of the bag.
Jenny couldn't think of anything else to say. She watched as Vanessa stepped through the doorway, and started down the hallway. After a few steps, Vanessa turned back around. She fiddled nervously with the edge of the strap of her bag.
"You know, he loves her, right?"
Jenny looked up at Vanessa, her expression neutral.
"I mean, I always knew that Chuck loved Blair. He was just using me as a cover," Vanessa explained after a heavy pause. "And contrary to what you all think, I didn't sleep with Chuck to get back at any of you."
Jenny's heart clenched, and for a moment, she saw the girl who had spent countless evenings on the couch with her and Dan, watching movies and eating ice cream by the half gallon. The girl who sat up for five hours one night after Jenny's fifth grade crush broke her heart by going to the dance with another girl.
Jenny took a small step towards Vanessa. "Vanessa, I—"
Vanessa held up a hand to stop her, a sad smile playing on her lips. "It's OK, Jenny. And for what it's worth? I am sorry for how we ended things. Maybe I'll see you around?"
Jenny shrugged with one shoulder and nodded. "Yeah. Maybe." She waited until Vanessa was at the elevator before closing the door.
Stepping further into the suite, Jenny looked around for Chuck. She turned a corner and found him in his room, haphazardly throwing clothes into a suitcase.
"Leaving again?" she spoke up as she made it to the door.
Chuck glanced up, mild surprise on his face when he saw her. "What are you doing here?"
"Hopefully stopping you from making a big mistake," she answered honestly. She leaned one shoulder on the doorframe, watching as he kept moving around the room.
"Don't," he ordered, pausing for just a second before heading into the bathroom.
"Don't what, Chuck? God, don't you get it?" Jenny came further into the room. "Are you seriously thinking that you'll help Blair by leaving?"
He came out of the bathroom with a bag of toiletries in hand. He stopped short and glared at her. "I'm not good for Blair. This proves that. If I had never come back—"
"What Blair did is not your fault. And you coming back didn't set this whole thing in motion, Chuck!" Jenny snapped.
"How can you say that?"
"Easy—I saw what she was like before you came home, and she wasn't much better off then either," Jenny retorted, her blue eyes flashing fire. "What will it take for you guys to admit you need each other?"
"Not everyone can be as happy as Nate and Jenny," Chuck replied, his tone mocking and cruel. "We don't all get the modern fairytale romance."
"No, Chuck, not everyone does," she agreed sardonically, "but how will you know if you never even try?"
"Blair and I aren't meant to be," he replied stiffly, shoving the bag into his suitcase and zipping it closed.
Jenny wanted to scream. She wanted to throw something—anything—to make him understand. How could he miss what was right in front of him.
He pulled the suitcase off the bed and started for the door. "Move, Jenny."
"No." She folded her arms under her chest, daring him to challenge her with her eyes.
Chuck's gaze narrowed. "Move."
"No," she repeated coolly, adamantly.
"Dammit, Jenny," he growled, dropping his suitcase on the floor with a muted thud. "Stay out of it."
"Getting pissed at me isn't going to make me go away," she replied firmly. "What will it take for you to get that she needs you as much as you need her? That she loves you as much as you love her?"
He rubbed a hand over his face, weary. "Blair doesn't need me. What she needs is for me to leave before I ruin her life even more."
She shook her head slowly. "No. No. Don't you see how wrong you are?"
"No," he cut in harshly. "Don't you see how wrong you are?"
"Chuck—"
"I ruin everything I touch!" he exploded. He stalked away from her and went to the dresser.
Completely baffled, she followed him a few steps into the room. "Chuck, you don't believe that."
"Don't I?" he asked bitterly, staring hatefully at the reflection in the mirror above the dresser. "My mother, my father, and now Blair. I destroy all the people I love."
Her jaw dropped. "Chuck, what happened to your dad was not your fault. And what happened to Blair isn't your fault either—she's sick. She has an illness and she needs treatment for it. Don't you see that you're one of the best things in her life?"
"Best thing in her life?" he repeated quietly.
"Yes," Jenny urged, coming up behind him. "You know, when I first met you, I thought you were an arrogant asshole who only looked out for himself."
Chuck smirked, staring at their reflections in the mirror. "Thanks, Humphrey."
"Let me finish," she said, rolling her eyes. "But in the last few months, I've gotten to know you—the real you. The guy who helped me out at a party when some guy wouldn't leave me alone. The guy goes out of his way to help his friends. The guy who is so bent on protecting the girl he loves, he's ready to move away from everything he's known to give her a shot at happiness."
Chuck let out a long breath, but didn't say anything.
After a moment, Jenny placed a hand on his shoulder. "Just trust me. Just this once. Blair loves you, and she needs you. Especially now. She's going to need all of us to get through this, but she's mostly going to need you."
"How do you know?" he asked quietly.
"Because I know what it's like to be in love," she answered simply. "And if the situation were reversed, you know she would be there for you."
He turned slowly, a muscle working in his jaw. He swallowed roughly and nodded once. "OK."
"OK?" She raised her eyebrows.
"OK, let's go."
Jenny held her breath. "To the airport?"
Chuck shook his head. "Back to the hospital."